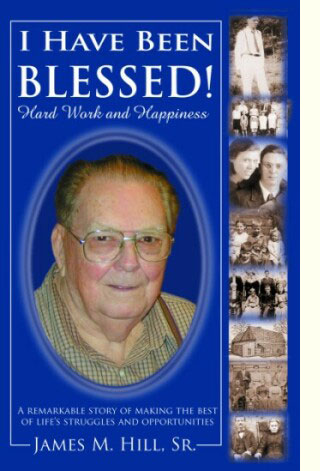 I Have Been Blessed! Hard Work and Happiness
is an uplifting autobiography full of challenges and love for life.
James Hill's story begins in a log cabin in the backwoods of western North Carolina. He grew up in an extended family of ten children and six adults, in a world without electricity, paved roads, or modern conveniences. From lessons of responsibility and optimism he learned from his father, through decades of farming and millwork, to the ups and downs of health and family life, James has found blessings at every turn. Savvy and mellow at the age of 92, he and his story show that an unwavering faith and positive outlook can add zest to hard times. In this richly textured story, you will discover:
Hardships and joys of living in the early 20th century
How large rural families not only survived but thrived
The wisdom and richness of ordinary life experiences
Packed with the details of everyday living, James tells his history with humor and grace. You'll feel like you know James Hill in person!
Advance Reader Comments
"James Hill's story is delightful. It confirms that once you make a choice to savor the life you've been given, troubles that come your way don't have the power to defeat you, and even small pleasures become blessings that grow and multiply."
Nell Perry Bovender, writer and editor, former editor
of FOOTHILLS MAGAZINE
"His vivid remembrances weave a gleaming thread of goodness and pride that runs rich through the patchwork of people close to his heart…. It is a lovely and haunting piece of work, conveyed with quiet passion."
from the Foreword by Robin S. Lattimore, award-winning journalist and author
"This wonderful autobiography takes me back to my own family's history in rural North Carolina.... Immersing myself in this great story and losing myself in its tales makes me smile in great peace that these words have been written down for all of us to relive in our own Southern families of faith and love."
from the Foreword by The Rev. Dr. Judith Davis, Rector of Historic Christ Church on Capitol Hill, Washington, DC
" 'I Have Been Blessed!' is a wonderful story, full of hope and gratitude. There is, I think, a familiar ring to it. A lot of us have parents and grandparents who worked hard and raised their families on mostly faith and promise. Reading about Mr. Hill's experiences reminds us of our own heritage and brings to mind many forgotten details of what life was once like."
North Carolina State Senator Walter Dalton